Stay at Luxury Migration Camp
Luxury, Eco-Concious Tented Camp
Stay at Luxury Migration Camp
Luxury, Eco-Concious Tented Camp
Stay at Luxury Migration Camp
Luxury, Eco-Concious Tented Camp
Stay at Luxury Migration Camp
Luxury, Eco-Concious Tented Camp
Stay at Luxury Migration Camp
Luxury, Eco-Concious Tented Camp
LUXURY, BOUTIQUE ROOMS IN THE WILD
The Luxury Migration Camp offers you everything desired in an "authentic safari experience"! Discreetly 'tucked away' in a riverine forest on the banks of the seasonal Olare Orok River with an excellent location close to Ol kiombo airstrip, it is situated in heart of the Maasai Mara game reserve.
Luxury Migration Camp is set up of 08 triple river-facing tents and 02 family river-facing tents. All 10 luxury tents (2 are family tents) are designed with great attention to detail. The tents are spacious, raised on stilts and located away from each other, ensuring complete privacy. Each luxury tent is furnished with a comfortable 4-poster bed, mosquito net, en-suite bathrooms and hot and cold water permanent showers, clothes rack, storage chest, writing desk and private verandah. The family tent comprises of 02 en-suite rooms with a common lounge area where the family can relax.
There is a lot of distance between each tent, ensuring maximum privacy and giving you the feeling of being able to enjoy your own African nature experience. The tents are very generous in size and offer an incredible ambience of warmth and comfort in the wild. Your bedroom is furnished with a double (king size) and single bed, a writing desk and chair, wardrobe & chest. All bathrooms are partitioned through soft furnishings and offer a vanity unit & double sinks, hot/cold running water & shower as well as a flush toilet. All 10 Guest Tents are designed with great attention to detail.
We have 08 luxury river tents that are spacious and designed with great attention to detail, providing all amenities found in a hotel room, yet, with an eco-friendly approach!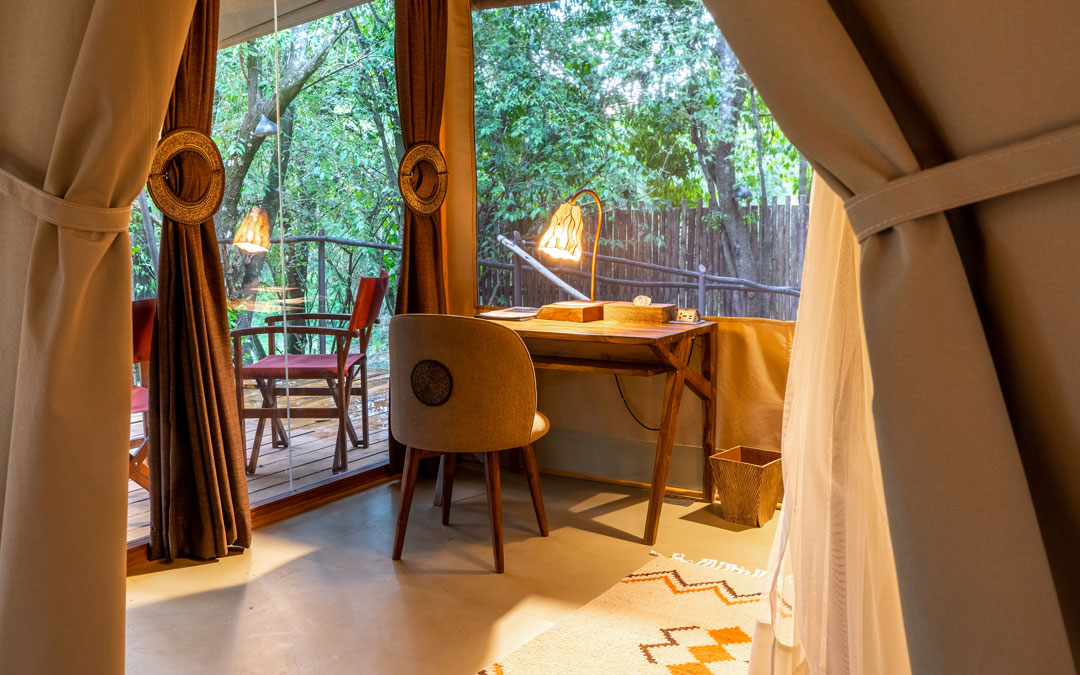 We have 02 luxury family tents to accommodate families or a group of friends (maximum 4 adults) comfortably. The Family tents are overlooking the river.
Luxury Migration Camp has a number of on-site facilities for you to use, and explore during your stay with us. Interact with our staff or other camp visitors to share your day's experiences and adventures.