Facilities At the Mara Bush Camp
Our Facilities
This spacious Lounge/Bar Tent with a hand crafted bar and cozy sofa sets, serve as a meeting point, where guests can relax and enjoy a cocktail and exchange the day's experiences before moving on to the adjacent dining tent for a delicious meal.
A unique little gift shop in this lounge offers lovely souvenirs and giveaways for travelers looking for something different to take home. The gift shop supports products locally made, organic or from self-help women projects.
The spacious Dining Tent is the mealtime highlight where carefully prepared meals are displayed in a colorful array of soups, salads, vegetarian & meat dishes and divine desserts.
Our head chef with his expertise in both international and African dishes will cook scrumptious meals throughout your stay for you. Our little organic vegetable garden adds to the flavors of healthy and home cooked meals! Meals at Mara Bush Camp are generally served buffet style, however, with less than 06 clients, they are pre-plated.
 We offer "outdoor dining", weather permitting, preferably under the shade of our cooling river trees. The main mess tent is used for indoor dining for all other occasions. On a clear night, you will encounter thousands of stars in the romantically lit camp setting.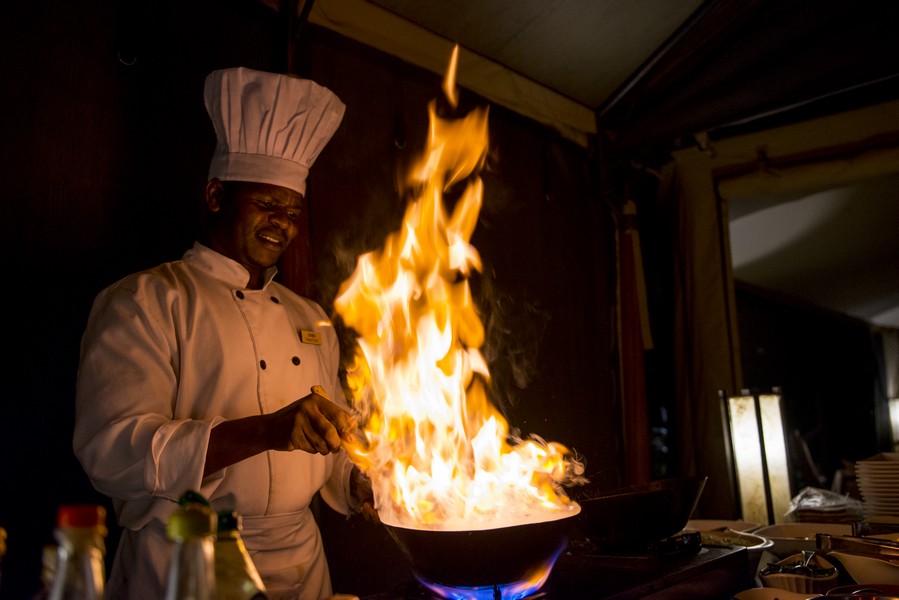 Mara Bush Camp is a heaven to photographers, not only because of its fantastic location but also because of a cozy photo lounge which provides photographers with working tables with fixed charging point for their equipment.
This is the ideal meeting point for photographers to exchange ideas and share their expertise regarding the world of photography. A projector and screen is available for photo workshops.
Our camp fire is probably the most liked hang out place in the evenings. Set under the stars on comfortable canvas chairs, reminisce the day and the impressions on wildlife & nature. Share stories of all that you experienced whilst enjoying a cold drink and hot / cold canapés.